http://www.saveur.com/grilled-mexican-style-street-corn
Ingredients
6 ears corn, husk on and silk removed
2 red chili peppers
1 stick softened butter
1⁄4 cup cotija cheese, grated
(cotija is similar to feta or parmesean depending on age and moisture content see Wikipedia)
2 limes, juiced
1 tbsp. chili powder
3 tbsp. cilantro, chopped
salt and pepper, to taste
Instructions
Once the coals on the grill have burned down to strong embers, place the corn directly on the coals. Slightly char the corn and jalapeños on all sides, approximately 4-5 minutes or until charred. Remove from coals.
Remove the husks from the corn. With a knife, carefully remove kernels from the cob. Dice the chili peppers.
In a large mixing bowl, add the corn, chili peppers, mayonnaise, lime juice, chili powder, and cilantro. Season with salt and pepper.
Place in individual serving bowls and top with grated cotija cheese.
Another version: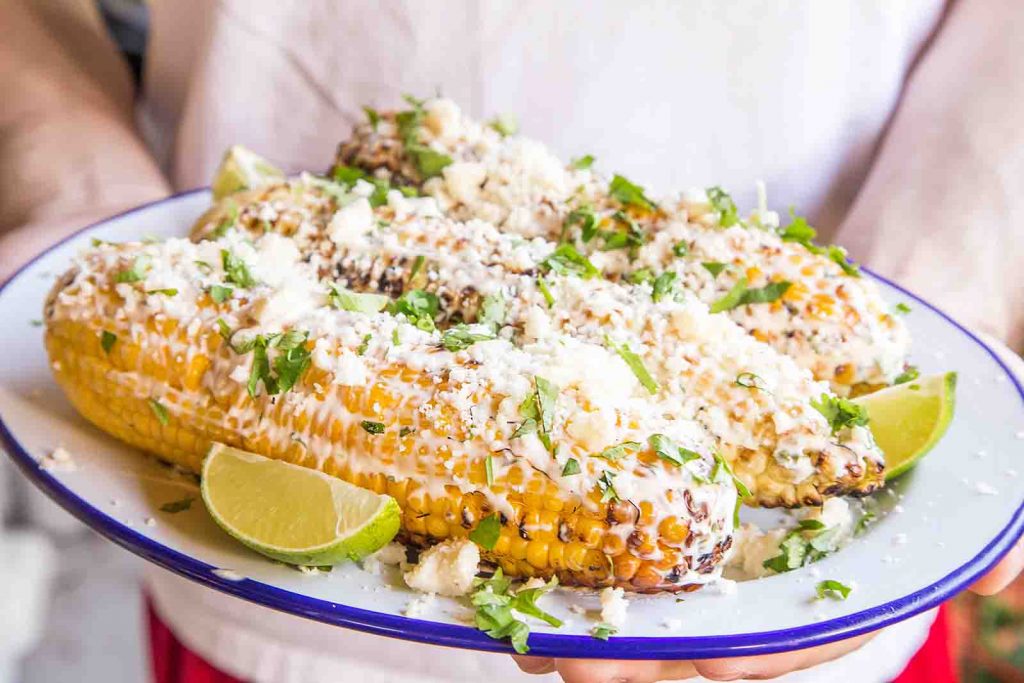 http://www.simplyrecipes.com/recipes/grilled_mexican_street_corn_elotes/