Source: http://www.withablast.net/2013/09/amish-country-casserole.html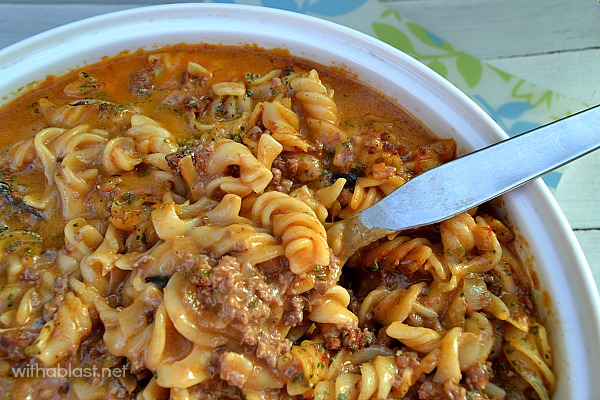 I don't know why its is Amish Country Casserole, but it looks like GREAT comfort food.
INGREDIENTS:
500g  Pasta  (your favorite)
1 TB Olive Oil
1 Large Onion, chopped
750g Lean Ground Beef
1 can (410g) Tomato Soup**  (see note)
1 can (410g) Mushroom Soup**  (see note)
1 cup Milk
Salt and Black Pepper, to taste
1/2 t Paprika
1/2 t Dried Parsley
DIRECTIONS:
1.) Pre-heat the oven to 180 deg C (350 deg F) – spray a large oven dish with cooking spray.
2.) Cook the Pasta, in a large pot, as per the instructions on the packet.
3.) Meanwhile, saute the Onion in the Olive Oil until soft – add the Ground Beef and cook until done.
4.) As soon as the Pasta is done – drain and return to the pot.
5.) Add the cooked Meat, Tomato & Mushroom Soups and Milk to the Pasta – stir through – season to taste with Salt & Pepper.
6.) Transfer to the prepared oven dish – sprinkle with Paprika and Parsley – bake 25 – 30 minutes.
Serve with a salad or a side dish.